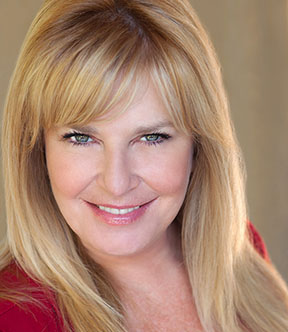 More work from Amy Lyndon
Amy Lyndon's Online Courses
Amy Lyndon has been entertaining the public since the age of 10. Having grown up in New Rochelle, New York, formal training was as easy as jumping on a train. At 16, Lyndon studied at the Neighborhood Playhouse (NYC) and went on to England to tackle the prestigious London Academy of Performing Arts. After earning her BFA from Syracuse University, she experienced intense drama training with Stella Adler and Harry Mastrogeorge and extensive comedy training with The Groundlings, CBS Comedy on The Lot, Int'l Blend Comedy Troupe with Rick Overton and The Comedy Store. Lyndon has over 100 IMDB Credit
She has 45+ films to her credit, some including: "The UnMiracle" with Stephen Baldwin, "And They're Off" with Sean Astin, "The Poughkeepsie Tapes" for MGM, "The House That Jack Built" with Joe Mantegna and 4 LionsGate Feature Films: "B.T.K,"  "Dracula's Guest," "Ed Gein: The Butcher Of Plainfield" and "Chicago Massacre: Richard Speck."  Lyndon also Starred in Chris Pratt's first film "Cursed Part 3," written & directed by Rae Dawn Chong.
On Television, Lyndon Guest Starred in over 30+ television shows, some including: "NCIS," "Adopting Terror" for Lifetime, "Law and Order: Los Angeles," "Eagleheart," "Ugly Betty," "Entourage," "NYPD Blue" and "JAG." She was also Recurring in "Days of Our Lives," "The Bold and the Beautiful," "General Hospital," "Young and The Restless" and a Recurring Guest Lead in "Freddy's Nightmares."
On stage, Lyndon's wacky performance as "Bobbi Michelle" in "Last of The Red Hot Lovers" at The Tiffany Theatre earned her a "Marquee Comedy Award" and critical acclaim starring as "Roberta" in "Danny And The Deep Blue Sea."
Additionally, Amy Lyndon is a Multi-Award Winning director, writer, producer. Her film "Odessa" starring the late Yolanda King (Dr. Martin Luther King Jr's Eldest Daughter) won "The Gold Plaque Jury's Choice Award" at the TV/FEST Chicago International Television Competition, "The Diamond Halo Award" at the Angelciti International Film Festival, "Jury's Choice Award" at the Temecula Valley International Film Festival and was honored to be chosen 15 times for Official Selections. She won the "Spirit of Moondance Award" for the Best Family Screenplay "Unleash My Heart" at the Moondance International Film Festival and she directed her first World Premiere Play "The Parasites," which was produced by The Met Theatre to sold out audiences. Lyndon also directed and produced "Award-Winning," which won "Best Comedy" at the G.I.A.A. Film Festival in NYC, "Audience Choice Award" at the Washougal International Film Festival and then received a "Directing Award" and an "Audience Choice Award" for the film "The Whiskey Girls" from The New York International Film Festival. Lyndon also wrote, directed and produced the Pilot sitcom "I Wanna Marry Larry," directed the films "Chloe's Song," "Dice," "#Unfiltered" and "Faking Death." "Love is a Tickle in the Heart" just won "Best Documentary Short" from Studio City International Film Festival.
As a former Personal Manager, Amy Lyndon owned and operated Gold-Levin Talent Management for 9 years and is now considered Hollywood's Premiere Celebrity Booking Coach, Author and Creator of the International and revolutionary, "The Lyndon Technique – The 15 Guideline Map To Booking," which has helped 1000's of Actors achieve their dream of success in the Entertainment Industry around the globe for 25 years.
"The Lyndon Technique: A 15 Guideline Map To Booking" has proven to be an Actor's secret weapon. It dispels the myths of the audition process and provides the Actor with an effective, straightforward approach to nailing their auditions and booking the job. It helps them study smarter, feel empowered in their auditions and always know what they are doing. "The Lyndon Technique" has turned out 50+ students as Network Series Regulars, an Emmy Award Winner and an Imagen Award Winner. Amy was voted one of the "Top Audition Technique Teachers" by Backstage.com for 4 years, her book was nominated by the Reader's Choice at Backstage.com as a top acting book proudly sitting alongside Stella Adler, Sandford Meisner and Michael Shurleff's books. She also ran the column "Ask Amy" for Castittalent.com and was an Expert Writer for Backstage.com for over two years.
"The Lyndon Technique" is part of the curriculum at the University of Kansas and was part of "Aaron Sorkin Week" through Syracuse University. Amy has had the opportunity to travel all over the United States and parts of Canada conducting intensives and lecturing about how to make it in the acting world teaching her Technique, helping Actors understand the philosophical principals of booking and teaching the importance and application of marketing and business strategies.
Amy always says to her students, "If it was easy, everybody would be doing it." And "The only way you don't make it, is if you quit."
Look for Amy's books, classes and courses on thelyndontechnique.com
and become a VIP Member of Amy's Booking and Business Site for Actors and see why Amy Lyndon has helped 1000's of actors' achieve their dream of success in the Entertainment Industry. theactorstoolbox.net
Just a few "The Lyndon Technique" successes include: Christel Khalil (Won an EMMY for The Young and the Restless), Carlos Pratts (Won an IMAGEN AWARD for McFarland, USA), Lucas Adams (Days Of Our Lives), Nadine Velazquez (SIX/Flight), Adam Brody (The OC), Hosea Chanchez (The Game), Denise Vasi (Single Ladies), Sterling Knight (Sonny with a Chance), Paris Smith (Every Witch Way), Gabrielle Elyse (Nicky, Ricky, Dicky & Dawn), Lauren Taylor (Best Friends Whenever/Richie Rich), Olivia Stuck (Kirby Buckets), Raini Rodriquez (Austin and Ally/Paul Blart: Mall Cop), Paris Berelc (Mighty Med), Corey Stoll (Billions), Makenzie Moss (The Unicorn) and Kate Godfrey (All That).
Amy's newest adventure is her Trademarked Brand – I AM ENOUGH! iamenoughcollection.com
More work from Amy Lyndon
Amy Lyndon's Online Courses