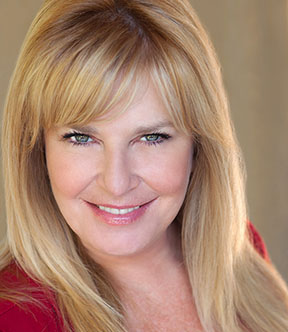 More work from Amy Lyndon
Amy Lyndon's Online Courses
Amy Lyndon is considered Hollywood's premiere Celebrity Acting/Booking Coach and creator of the Internationally acclaimed, revolutionary book, The Lyndon Technique: The 15 Guideline Map to Booking.
"The Lyndon Technique" is part of the curriculum at the University of Kansas and was part of "Aaron Sorkin Week" through Syracuse University. Amy has had the opportunity to travel all over the United States and Canada conducting intensives and lecturing about how to make it in the acting world teaching her Technique, helping Actors understand the philosophical principals of booking and teaching the importance and application of marketing and business strategies.
Here's an impressive partial list of Actors that are indebted to Amy and The Lyndon Technique; Emmy Award Winner Christel Khalil ("The Young and the Restless"), Imagen Award Winner Carlos Pratts ("McFarland, USA"), Adam Brody ("The OC"), Nadine Velazquez ("Queens"), Raini Rodriguez ("Austin and Ally"), Hosea Chanchez ("The Game"), Olivia Stuck ("Kirby Buckets"), Lauren Taylor ("Best Friends Whenever"), Paris Berelc ("Alexa & Katie"), Corey Stoll ("Billions"), Marisa Davila ("Grease: Rise of the Pink Ladies"), Stefania Spampinato ("Grey's Anatomy"/"Station 19") and Kate Godfrey ("All That").
Amy was voted one of the "Top Audition Technique Teachers" by Backstage.com for 4 years, her book was nominated by the Reader's Choice at Backstage.com as a top acting book proudly sitting alongside Stella Adler, Sandford Meisner and Michael Shurleff's books. She also ran the column "Ask Amy" for Castittalent.com and was an Expert Writer for Backstage.com.
Amy will show you how talent alone cannot, and will not, help actors achieve their desired success! With all of her tools for success, expect Amy to always give expert information regarding the Philosophy of Booking Acting Jobs, How To Market Effectively and teach her famous 15 Guideline Map To Booking Technique in a succinct comprehensive manner.
Amy Lyndon's rich and varied career both in front of and behind the camera has given her a profound appreciation for the work that goes into being successful. She took her first steps to become an Actor at age 10.  At 16 she was traveling by train to study in New York City at The Neighborhood Playhouse, at 17 Shakespeare at The London Academy of Performing Arts and then went on to earn her BFA from Syracuse University's Conservatory Drama Department.
Her early days as a professional performer in Los Angeles, Lyndon studied with Master Teachers Stella Adler and Harry Mastrogeorge, as well as training in comedy and improvisation at The Comedy Store, The Groundlings and CBS On the Lot.
To date, Lyndon has over 110 IMDB credits, which includes appearing alongside Stephen Baldwin in "The UnMiracle," Kane Hodder in Lionsgate's "B.T.K" and Sean Astin in "And They're Off." On television, Lyndon has guest starred in dozens of shows like "NCIS," "Law and Order: Los Angeles," "Ugly Betty," "Entourage," "NYPD Blue" and "JAG." She also enjoyed recurring roles in "Days of Our Lives," "The Bold and the Beautiful," "General Hospital" and "The Young and the Restless."
Amy Lyndon's work as a Multi-Award Winning Director/Writer/Producer has been equally notable and informs her unique insights concerning what casting directors and producers are looking for in on-screen talent.
As a former Talent Manager and CEO of Gold-Levin Talent for 9 years – Lyndon has most certainly been around what would be considered the cream of the crop in Hollywood. With all this and so much more, Amy Lyndon is truly one unique expert and clearly on the top of her game.
LEARN AMY'S BOOKING AND BUSINESS TECHNIQUE AT HOME
GET A FREE 15 GUIDELINE MAP TO BOOKING CHEAT SHEET ▶
JOIN AMY'S PRIVATE CLUB FOR ACTORS ▶ http://actor.club 
JOIN AMY'S BIZ AND BOOKING SITE ▶ http://theactorstoolbox.net   
LEARN THE TECHNIQUE AT HOME ON VIMEO ON DEMAND ▶ https://vimeo.com/ondemand/thelyndontechnique.com  
LEARN HOW TO BOOK ACTING JOBS FROM UDEMY COURSE ▶ https://www.udemy.com/course/how-to-book-acting-jobs/?referralCode=987987F24E0E0E09DE24
AUDIO BOOK: THE LYNDON TECHNIQUE EXTENDED AND UNPLUGGED
https://www.audible.com/pd/The-Lyndon-Technique-Audiobook/B01N0OCGTK
LISTEN TO AMY'S PODCAST "ACTORS! YOU ARE ENOUGH!!" ▶
https://anchor.fm/actorsyouareenough
JOIN THE LYNDON TECHNIQUE CLASSES & BUY MERCH ▶ https://thelyndontechnique.com/store/
TWEET AMY ▶ http://twitter.com/amylyndon  
FOLLOW AMY ▶ http://instagram.com/amylyndon
FACEBOOK ▶ https://www.facebook.com/AmyLyndonLevine  
YOUTUBE ▶ https://www.youtube.com/c/AmyLyndonCelebrityBookingCoach
BUY AMY'S INSPIRATIONAL BRAND ▶ http://iamenoughcollection.com
More work from Amy Lyndon
Amy Lyndon's Online Courses